Events
Our restaurant and its banquet room is an excellent place for weddings, banquettes, family meetings, events and company trainings as well. The restaurant can host 160 guests and in the summer it is extended with a terrace that can host an additional 200 people. The banquet room can host up to 70 people.
The final menu composition is made according to your needs. From the available resources, we can prepare your individual ideas. We can undertake events on outside locations as well. In our nearby pension we can provide accommodation for up to 40 people.
More than 20 years of event organizer experience and hundreds of successful events guarantee the perfect care of you.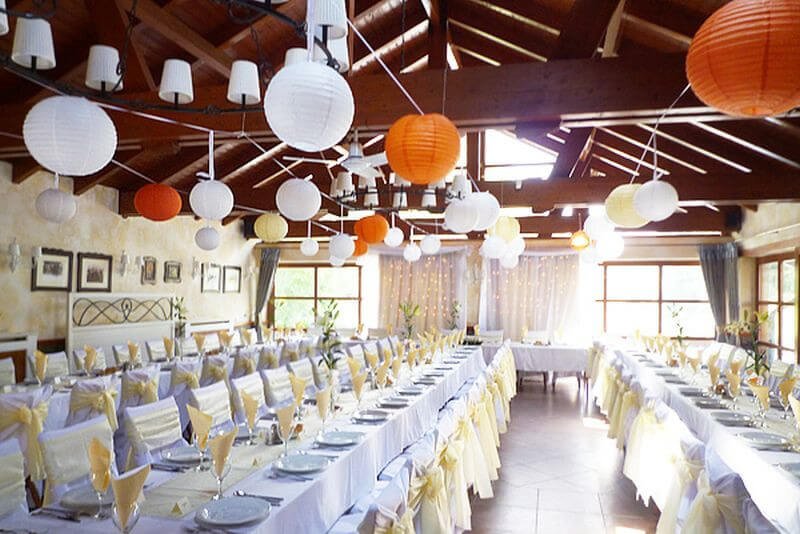 Beautiful Danube beach environment
Homely athmosphere
Big capacity (even 200 people)
High quality food
In buffet system (maximum 120 people) or tradicional serving
Accomodation and bus for reasonable price
We are waiting for your request for quote, contact us with any question(s) or request(s)!
---
For Groups
We offer several special offers for family gatherings, corporate events, friends reunions and travel agency groups.
Pie baking and preparing dishes in furnace:
This open-air program takes place 500 meters from the Forgó Restaurant, in the Jakab family's vineyard where the furnace and a grapes press house can be found. The on-site pie baking and the cooking in a cauldron, accompanied by Swabian accordion music, are well-liked among the guests.
The program is weather dependent. On arrival we offer our guests a home-made grape marc palinka then we bake pies in the original Swabian peasant furnace. In the cauldrons, we offer knuckle bean soup or goulash soup and locally produced wines.
Cold dish and buffet offerings:
It is recommended for groups (meals prepared in a short amount of time) or for light summer lunches. Groups which need serving can choose from 16 kinds of 3-4 courses menus. Menu preview: Bogdányi meat soup with spiral pasta, Swabian smoked knockle with sheep cheese dumplings, mixed strudel, Danube fish soup, catfish paprika with cottage cheese pasta and Somló dumplings.
Wine tasting in the vineyard cellar:
Tasting wines from the local wines: Italian Riesling, Chardonnay, Kékfrankos rose, Kékfrankos, Cabernet sauvignon. We offer cellar stew or mixed peasant plate (homemade smoked ham, salami, sausage, cheese, paprika, tomato, spring onion). On request, we also organize a wine tasting in the restaurant, in which case we make a proposal for the selected menu.
Our grill terrace offer:
Grilling is done in front of the guests. The grilled meat, fish, vegetables and cheese are prepared in a pre-arranged manner, as a supplement to a goulash soup salad and dessert-based menu.
Boat trip on the Danube:
A short boat trip on the Danube (on the Visegrád - Dunabogdány route) makes a Dunakanyar excursion, which originally started just as a bus trip, more enjoyable. The boats can be booked for a minimum of 20 people, one way or return: Hungarian water bus (100 people) or unique trip boat (60 people). If you have a group booking for the Forgó restaurant, the boat trip can be booked at a discounted rate. On request, the boat is available on any route, including meals as well.
General information:
Our group menu offers are available for a group of minimum 10 people. Our menu offers are for informational purpose, we can fulfill individual requests as well. We can also create other offers for a given budget. We also undertake catering for groups and events outdoors as well.
Reservation / Request for Quote
Dear guests,
The fields marked with * are required!
If you do not receive a confirmation of your online booking or request for a quote, please confirm the following telephone number.
Phone number: +36 26 391 062